Monster Bash Pictures
Here are the areas that needed touchup. The larger images were taken after the playfield had been restored by Playfield Renovations. As they claim, it is better than new. The colors are fabulous, the retouching perfect, and the whole playfield is smooth and shiny like a new car. The smaller thumbnails are before, and the larger ones after. They all click through to enormous.
Minor inlane damage

Wear at top of creature hole.

Forgot to take this one.
Mosh pit.

The white epoxy goes to the edge of the remaining artwork; it is too much to hide under a protector. The epoxy needs leveling, it is fractionally lower than the wood.You can also see the track across the Drac Track. I have retouched the black line between the red and the epoxy with acrylic paint; the side with the epoxy has bled slightly. You can see a piece of film on the wear, with some mismatched ink on it. Time to stop messing with this! This is the point at which I decided to send it out.

Wolfman wear.

I have retouched this but it is hard to see in the photo, other than a very slight bleeding towards the track. PFR fixed this up very nicely.The edge of the track is overall beaten up. but mostly in the clearcoat. I was surprised to find that Magic Eraser even gets the dirt out of exposed wood! However, the restored playfield looks like new.

The shooter lane appears to have sealed-in dirt, as well as some missing paint.
A few overall pictures: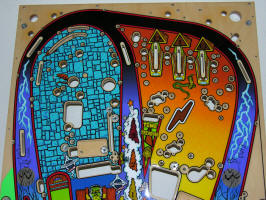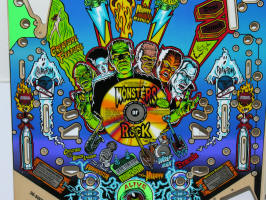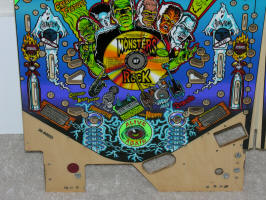 ---
And reassembly clues