WPC IDC Connectors
The WPC system makes extensive use of IDC connectors. Here's some information about them.
Power connectors are usually 0.156" pitch connectors. They are used in 18GA (transformer wires, and WPC-95 GI) and 22GA (solenoids, and WPC GI).
Signal connectors (switch matrix, trough board, opto board and a few others) are 0.1" 22GA connectors.
IDC connectors work by squeezing the wire into a slot slightly narrower than the copper conductor. The slot slices through the insulation and squeezes tightly into the wire. This squeeze creates a gas-tight connection between freshly-scraped metal surfaces. It is a reliable and quick way of connecting.
The speed at which you can replace a connector is astonishing.
What Goes Wrong?
Things go wrong when the connector pins get dirty. The dirt causes hot spots, which causes the pin to corrode faster. More corrosion means more resistance and more heat. Then, the IDC slot starts to expand and contract, damaging the joint The result is a discolored connector, a damaged pin and socket, and - most commonly - no GI. The connectors also appear to be compromised by vibration. The pin temper softens, and the contact is no longer gas tight. This causes oxidation to set in, followed by heating, which accelerates oxidation.
IDC vs Crimp
There is some controversy about whether to use IDC or crimp connections when repairing pinball machines. My belief is that IDC connectors are just fine. I also believe that the black 12 amp rated Panduit connectors are superior to any IDC or crimp solution. I have also seen crimp connectors burn.
The key difference when crimping is the use of Trifurcon connectors made from phosphor-bronze instead of brass. Phosphor-bronze holds its spring tension better, and will work better than regular crimp or IDC connections. However, the chances of a bad crimp are quite good, so they are not a guaranteed fix. The black Pancon (Panduit) connectors are also phosphor-bronze, and with a 12.5 amp rating are superior to Trifurcon pins.
Now, there's an exception here. If IDC connectors are assembled with the wrong gauge wire, the connection isn't right. And there will be a thermal failure. It is really important to get this right.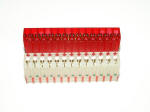 Here's a pair of 0.156" IDC connectors. These are both 22GA connectors, evidenced by the red body, or the red stripe. The red connector is closed end - you can see the barriers at the back. The white connector is a through connector, both sides are open. Williams sometimes looped wires through these connectors to increase the current capacity.
Why Connectors Fail
The reason that the GI is so susceptible to problems is because the connector is running close to maximum current at room temperature. If the machine remains on, the current exceeds the design limit and thermal problems accelerate. This is a well-known Williams design flaw. Occasionally, power connections on the right hand side of the board will fail, but this is relatively rare.
| | |
| --- | --- |
| This is a black breakaway header. these headers have the highest current rating. Williams switched to these for GI power input on later machines, but they are superior replacements for any IDC header. When replacing a connector, you should also replace the header. | Here's the Pancon black 12.5A 18GA connector. This is the best choice for GI input, and for GI output on WPC-95 machines (which used 18GA wires for the playfield). |
| A little evidence that crimp connectors aren't immune from overheating either. In this case, the overheating happened at the pin-blade contact point. | Here are the pins from that connector. The middle pin is OK, and you can see the metal is still shiny. The outer pins overheated, and you can see the dull, damaged surface. |
| Here's an example of a replaced trough connector. Not sure what happened here. However, ball vibration tends to loosen the pins. Then the connector starts to fail. This is a big problem with the TZ trough eddy board, as well as the trough board connectors. | |
Color Coding and Wire Gauges
The connector slot has to be the right width for the wire. The wire gauge is indicated by a color:
Orange - 18GA
Yellow (AMP) or Brown (Pancon) - 20GA
Red - 22GA
Natural with black stripe (Pancon) or natural (AMP) - 24GA
Natural with purple stripe (Pancon) or Blue (AMP) - 26GA
Only 18GA (orange or orange stripe) and 22GA (red or red stripe) connectors are used in WPC machines.
The color may be a strip on white housing, common on all WPC games. Modern connectors use whole body color, so an 18GA connector is orange, and a 22GA connector is red.
The two most common failure points on WPC are the GI power in, located on the bottom left of the power-driver board, and the two sets of GI connectors, usually in the lower left area.
On WPC-95, Williams used mostly 18GA orange connectors, even for 22GA wires. This error seems to have caused less trouble than it might.
The AMP connectors are rated at 5A. The Molex trifurcon connectors are also rated at 5A. The regular Pancon 18GA connectors are rated at 8A for 18GA wire, and 6A for 22GA wire. At about 110 degrees, these ratings drop by 25%. However, the regular headers are only 5A headers. The black headers are required for the 8A rating. The black connectors, when used with the black headers, have a 12A rating up to the thermal limit.
Recommended Replacements
All GIAC connections are 18GA. If you can find them, the best connector is the Pancon 18GA high current connector. These connectors have phosphor-bronze pins and a 12A rating. You should also replace the GI board connections with the black high-current headers.
For GI output - usually burnt - you should use 12-pin red connectors on WPC, and 12-pin orange connectors on WPC-95. You can easily cut the connectors to size using side cutters, followed by a quick shave with a sharp knife or razor blade.
| | | | |
| --- | --- | --- | --- |
| | WPC | WPC-95 | Replacement |
| GIAC | 12-pin Orange | 12-pin Orange | 12-pin BLACK Panduit |
| GI | 11-pin Red | 11-pin Orange | As original or black Panduit for WPC-95 |
| Solenoids | 13-pin Red | 13-pin Orange (incorrect) | 13-pin Red |
| Headers | White headers | White headers | Black high-temp headers |
There's a preference for using 5A Molex Trifurcon connectors instead of the IDC replacement. These connectors have the same weakness as the Williams originals. They are less likely to burn in home use, because the machine is on for fewer hours.
If you must crimp, you must also buy the phosphor-bronze contacts. Otherwise, your replacement is no better than the original. Trifurcon sounds neat, but they have the same ratings as a regular pin if you buy the brass ones. Phosphor-bronze only, please!
The best solution for the GI is new headers and Pancon connectors. However, they must be installed with an appropriate tool.
Where to Get Them
We have a good supply of red stripe 13-pin Panduit connectors on Pinbits. These connectors can be cut down to suit any red stripe (22GA) needs, most specifically the 11-pin GI headers on WPC machines.
We also have red body .100 connectors that can be used on the switch matrix.
And finally, we have economy pushers using stainless steel blades.
| | |
| --- | --- |
| This is the 0.156" pusher. The handle is wood, with a steel ferrule. | And the 0.100" version |
| Here's the tip. Stainless steel. The shaft goes up about an inch into the handle. | |